Quinceañera Invitations
Choose from the extensive selection of Quinceañera Invitations and cards we offer. You'll find cards in all price ranges - from very affordable to more expensive.
Butterfly in Full Color
Guests will find this invitation featuring pearlized butterflies inviting!
$169.90 per 100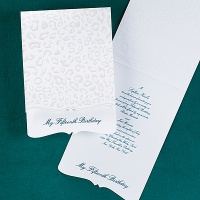 Stylish Pattern
A pearlized cheetah pattern is on the front of this invitation with your wording on the inside.
$174.90 per 100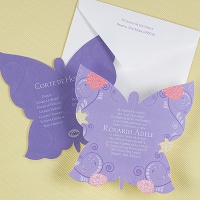 Butterfly Silhouette - Invitation
A butterfly silhouette and bright flowers display your wording on this two-sided invitation.
$269.90 per 100
Pink Rose and Fan
A beautiful die-cut fan with softly embossed pink roses and ribbon is the focal point of this most unique invitation.
$174.90 per 100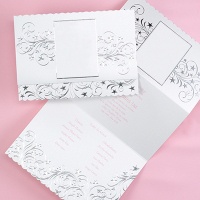 Simple Scallops
Insert a photo of your choice on this shimmery invitation that showcases sparkling silver stars.
$198.90 per 100
Blushing Butterflies
This beautiful quinceañera celebrates her birthday with butterflies, releasing them from a pearl bridge.
$174.90 per 100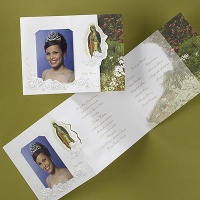 Scenic Flowers
Pearlized roses surround the die-cuts that hold your photo on the front of this lovely invitation
$174.90 per 100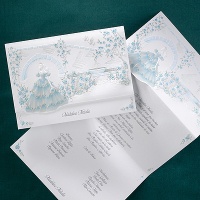 Blue Beauty
Soft shades of blue accent this pearlized, vertical z-fold invitation. The young girl standing beside a bridge is surrounded by elegant, pearlized flowers to bring out her true beauty.
$174.90 per 100
Butterfly Princess
A beautiful girl with a flowing purple dress is surrounded by butterflies and roses on this invitation.
$198.90 per 100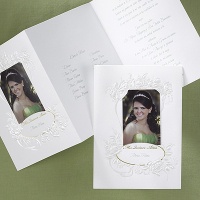 Roses and Ribbon
A delicate pearl border of roses and ribbon frame the edges of the die-cut frame where the quinceañera's photo is inserted. Below the photo "Mis Quince Años" is printed in gold foil in an oval and cannot be altered or removed from stock.
$169.90 per 100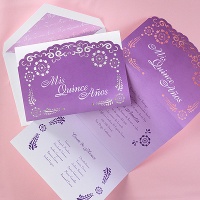 Lovely Lavender
Lovely lavender colors give this invitation an ombre effect. Share your good news with family and friends by sending invitations or announcements. Consider ordering additional for mementos and any oversights.
$278.90 per 100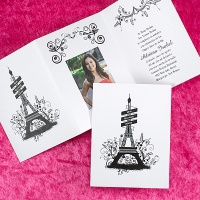 City of Love
Insert your photo in the middle of this tri-fold, city-of-love invitation.
$229.90 per 100

All our invitations can be printed in spanish - you choose what to write in them.
(Todas nuestras invitaciones de Quinceañera se pueden imprimir en Español)
Elegant Invitaciones de Quinceanera and Quince Anera