Quinceañera Invitations
Choose from the extensive selection of Quinceañera Invitations and cards we offer. You'll find cards in all price ranges - from very affordable to more expensive.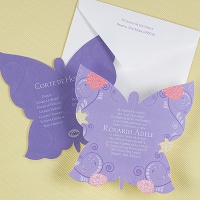 Butterfly Silhouette - Invitation
A butterfly silhouette and bright flowers display your wording on this two-sided invitation.
$269.90 per 100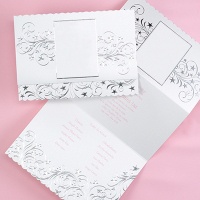 Simple Scallops
Insert a photo of your choice on this shimmery invitation that showcases sparkling silver stars.
$198.90 per 100
Butterfly Princess
A beautiful girl with a flowing purple dress is surrounded by butterflies and roses on this invitation.
$198.90 per 100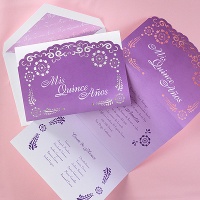 Lovely Lavender
Lovely lavender colors give this invitation an ombre effect. Share your good news with family and friends by sending invitations or announcements. Consider ordering additional for mementos and any oversights.
$278.90 per 100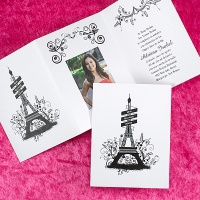 City of Love
Insert your photo in the middle of this tri-fold, city-of-love invitation.
$229.90 per 100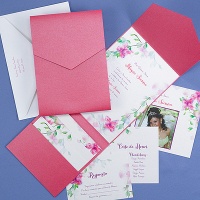 Blooms and Butterflies
Watercolor flowers and butterflies are shown on this invitation.
$318.90 per 100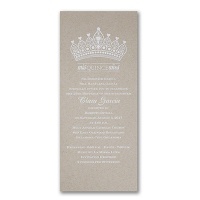 Crowned In Elegance
A white crown and "Mis Quince Años" are at the top of this brown invitation.
$198.90 per 100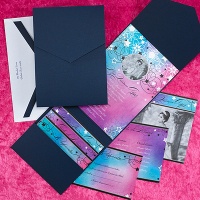 Shooting Star
Bright pastel colors along with stars and swirls are shown on this elegant pocket invitation.
$318.90 per 100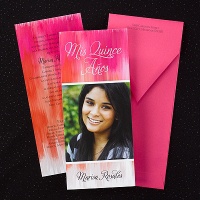 Color Wash
A color-wash effect gives this invitation the perfect look for your special day.
$188.90 per 100
Regal Roses
A red shimmer wrap with a laser-cut rose pattern encloses your invitation.
$298.90 per 100

All our invitations can be printed in spanish - you choose what to write in them.
(Todas nuestras invitaciones de Quinceañera se pueden imprimir en Español)
Elegant Invitaciones de Quinceanera and Quince Anera